Featured Firearm: Spencer Repeating Rifle
East Coast Firearms of Dutchess County, NY is the largest distributor of firearms. Not only do we proudly sell a selection of new guns and ammo, but collectible guns as well.  This month we will be putting the spotlight on the Spencer Saddle Ring Carbine.
Design and Conception
Christopher Spencer patented this rifle in 1860. He worked for the Colt Manufacturing Company in Hartford, Connecticut. Spencer became interested in gun manufacturing and toyed with the idea of a single shot, magazine fed, repeating rifle which used a large metallic cartridge. The rifle was a revolutionary piece because of its ability to repeat fire, and it's design was simple and reliable. One simply dropped a number of cartridges into the magazine and the shooter put the hammer on half-cock.  The lever then needed to be lowered and a cartridge had to be pushed into position by the follower.  In order to chamber the round, these steps were necessary.  Now all one had to do was cock the hammer, aim and fire. These features made it easy for soldiers to use in the heat of battle.
History of the Spencer Saddle Ring Carbine
U.S. Department of Ordinance passed on the rifle as it was too expensive at the time. The department believed it to be a waste of money because soldiers fighting in the Civil War would waste ammunition.  This did not deter Spencer from marketing his weapon.  Determined, Spencer was able to gain an audience with Abraham Lincoln. They had a shooting exhibition near what is now the Washington Memorial. Impressed with the functionality of the weapon, Lincoln directed the War Department to order it for soldiers to use in battle.
The rifle quickly became a popular weapon of the Civil War.  The weapon was shot by soldiers in some of the war's most famous battles.  These included the Battle of Hoover's Gap, the Battle of Nashville and most notably, the Battle of Gettysburg.  Despite its success, the Spencer company went under in 1869.  The United States still manufactured ammunition through the 1920s. Compatible ammunition for the rifle can still be purchased through specialty markets.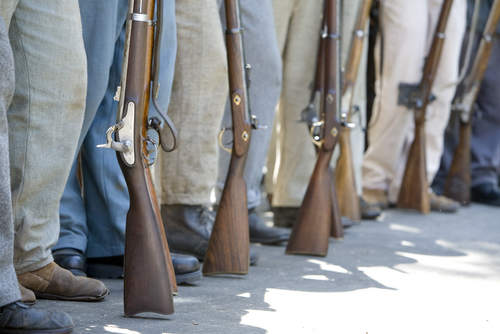 In Our Inventory
East Coast Firearms is proud to feature one of the most popular carbines used in the Civil War. The stock is in excellent condition showing only a few minor marks. The metal freckles a bit, but overall, this piece is in outstanding condition.
Stop by our showroom to check out this historical rifle, and many other collectible pieces. Contact us if you would like to discuss any questions you may have about other collectible firearms as well.